We are aware of how our clothes, which we see as a means of expression, have an impact on society and the world we live in. We adopt the production principles of ''Slow Fashion'' and strive to be clean, fair, and transparent. In this article, I will talk about our design and production model based on human solidarity, adhering to the principles of slow fashion, being fair, non-hurtful, caring, and compassionate.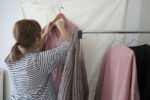 We start the design process by carrying out our fabric supply and model determination processes together. Our priority is to work with natural materials, of high quality and that will contribute to sustainability. Among the high-quality, natural fabrics that are left idle in warehouses or scrapped by factories from various cities in Turkey, we choose the ones with colors, patterns, and textures in our minds for that season. 

After we supply the fabrics, we wash them; We test them for shrinkage, stretch, pilling and durability. We are currently working on the dissolution test in nature, and we are very excited about it. After testing the fabrics, we match the fabrics with the models we designed to make our bodies feel comfortable, minimal, and free and original. For example, sparsely woven fabrics may come loose at the seams when subjected to excessive tension. For this reason, we prefer these fabrics in oversize styles.

After determining the models and from which fabrics we will see them, we produce the first samples. We ask our friends and our models who were with us during photo shoots to try these samples we produce in various sizes. About a month later, we collect their comments on the comfort, functionality, and durability of the clothes. We make the necessary improvements and corrections.

We are starting to build our stocks with models that meet our criteria in terms of naturalness, quality, durability, comfort, functionality, and aesthetics. We perform the cutting process in a way that minimizes the fabric waste rate. We separate the patterns we cut according to their sizes and models and pack them to be taken to our sewing master, Tekin and I have been working in the process up to this point. These works take place in our sewing atelier in Mersin.
5. The sewing process is done in Tekin's sewing atelier in Kadıköy. Tekin has worked in fashion industry for 25 years. He started working in textile ateliers as an apprentice in his youth. For the last 3 years, he has been running his business in his sewing atelier. He is a meticulous and attentive person who loves his job very much. He attaches importance to innovation, self-improvement, and honesty. All our products are sewn gracefully by his hands.
6. The carefully sewn products are packaged with our ecological packaging solutions and then, reach you. From now on, we are excitedly waiting for you to accompany us in your pleasant moments. When we see you wearing our clothes happily, we are happier than you are. 🙂
REN means "clean, pure" in most of the Scandinavian languages. As a requirement of our name, we must make sure that we have a clean, fair, and ethical production model. For this reason, we develop a solidaristic and collectivist relationship with all our partners that we meet during the production process. What is more precious and effective than the efforts of brands like us and ours is that the consumers collectively asked: ''Who Made My Clothes?'' We invite you to be a part of this transformational movement in fashion.
💖
Gözde