WOMEN – OVERSIZE FIT
We adopt OS convention for our relaxed and oversize fit models. They offer more flexibility in terms of size and can be worn in several ways. OS means one size fits all. However, we know that only one option cannot be cover all unique bodies. So we added OS-, OS+ and OS2+ options with the inspiration from pioneer brands of size inclusive fashion. You may find your size according to OS convention from our sizing guide. Also, you may size up or down from this recommended size to create your desired fit. If you like roomier fit, you may choose upper size. If you want fitted sillohuette, you may prefer smaller size than the recommended size.
We love OS sizing convention because it gives us freedom to choose how our garments fit our bodies.
| Size | Bust | Waist | Hip |
| --- | --- | --- | --- |
| OS- | 78-85 | 64-71 | 88-95 |
| OS | 85-103 | 71-89 | 95-113 |
| OS+ | 103-110 | 89-96 | 113-121 |
| OS++ | 110-122 | 96-107 | 121-134 |
WOMEN – FIT TO SIZE
The size table is for our fit to size styles. If your measurements are within the specified ranges, you can choose the relevant size. If your measurements are within the limits, you can choose an upper or lower size according to the wide or narrow silhouette you prefer. You should take your hip size as a reference for bottoms and dresses, and your chest size as a reference for tops. If you are unsure about choosing the right size, please contact us for garment sizes. We will be happy to assist you.
| Size | Bust | Waist | Hip |
| --- | --- | --- | --- |
| 32 | 74-78 | 60-64 | 84-88 |
| 34 | 78-83 | 64-69 | 88-93 |
| 36 | 83-88 | 69-74 | 93-98 |
| 38 | 88-93 | 74-79 | 98-103 |
| 40 | 93-98 | 79-84 | 103-108 |
| 42 | 98-103 | 84-89 | 108-113 |
| 44 | 103-109 | 89-95 | 113-119 |
| 46 | 109-114 | 95-100 | 119-125 |
| 48 | 114-119 | 100-105 | 125-131 |
| 50 | 119-122 | 105-107 | 131-134 |
International Conversions
| USA | EU |
| --- | --- |
| 2 | 34 |
| 4 | 36 |
| 6 | 38 |
| 8 | 40 |
| 10 | 42 |
| 12 | 44 |
| 14 | 46 |
| 16 | 48 |
| 18 | 50 |
How To Measure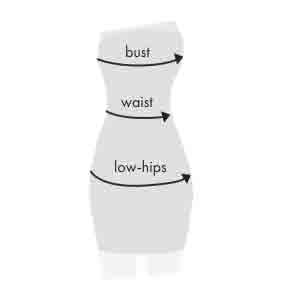 To choose the correct size for you, measure your body as follows:
Bust – Measure around fullest part
Waist – Measure around natural waistline
Hips – Measure 20cm down from the natural waistline, fullest part of your hip